Arbroath driver jailed after 15-mile high speed chase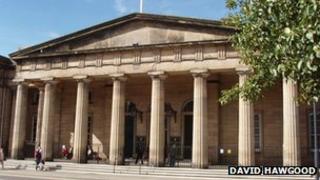 A banned driver who hit 107 miles per hour while he was being chased by police in Perthshire with his pregnant girlfriend in the car has been jailed for 10 months.
Charles Gardiner only stopped when two police cars blocked him on the M90.
At Perth Sheriff Court Gardiner, 29, admitted failing to stop for marked police cars and driving through a contraflow at 70mph on 15 September.
Sheriff Michael Fletcher said a custodial sentence was his only option.
The court heard that Gardiner's three-litre BMW 330D Sport was spotted speeding near Milnathort so officers in a marked car tried to pull him over.
Excessive speeds
He failed to stop and raced off through an area of roadworks where a team of workmen were by the roadside.
Several cars had to pull over to let Gardiner race past while some drivers pulled onto the hard shoulder as police clocked speeds over 100mph just to keep up with the 29-year-old.
Eventually two police cars blocked Gardiner on the outskirts of Perth and brought the chase to an end, he was then arrested and taken into custody.
He claimed he had driven because his friend was drunk and it was the "lesser of two evils".
Gardiner, from Arbroath, admitted driving dangerously and at speeds up to 107mph over a 15-mile stretch of the M90 between Inverkeithing and Perth.
No insurance
He admitted overtaking slower vehicles, failing to stop for marked police cars and driving through a contraflow at 70mph on 15 September this year.
Gardiner also admitted driving without insurance and while he was subject to a four-year ban imposed in February.
He was also subject to two bail orders at the time.
Sheriff Michael Fletcher said: "This was a very dangerous incident, carried out by a person who was already disqualified from driving. I don't think I can deal with it any other way than by a custodial sentence."
He jailed Gardiner for 10 months, banned him from driving for five years and ordered him to re-sit the extended driving test before getting back on the road.