Falkirk tower blocks to get £4.5m upgrade from council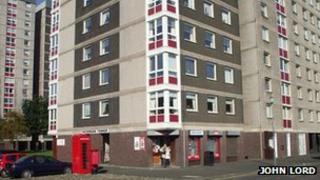 Falkirk Council is to spend £4.5m upgrading two high rise tower blocks built in the 1960s.
The policy and resources committee has approved the renovations that will see Leishman and Paterson towers reclad and reroofed.
Work on the buildings, which are located in Callendar Park, will start in spring 2013 and be completed the following year.
Six new ground floor flats will also be created.
Four new units will be constructed at Paterson tower and two at Leishman tower, with all six being wheelchair accessible.
Improved buildings
The authority said the work would be carried out on the towers simultaneously to help minimise disruption to residents.
Cllr Craig Martin, leader of Falkirk Council, said: "With the improvements, residents of the towers will see a significant improvement to their energy efficiency that will mean a reduction in their bills.
"We're also very pleased that our own architects have been able to reconfigure the ground floors to allow us to develop six new flats available for rent.
"Both blocks will be entirely reclad and new steel roofs installed that will also enhance their look."