Central Scotland Police Pipes and Drums is disbanded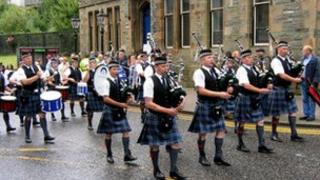 Central Scotland Police has disbanded its pipe and drum band and reformed it as a civilian one.
The band has been renamed as the Bannockburn and District Pipe Band.
Central Scotland Police Pipe and Drums was established in 2006 and comprised of police officers, police staff and civilians.
The new band will continue to maintain close links with the police and local community and will wear the old band's Loch Lomond tartan.
A pipe band spokesman said: "With the single force coming into being next year the decision was made that we would reorganise ahead of this to ensure minimal confusion. We are no longer a police pipe band but a civilian pipe band.
"We are extremely proud to have been the pipe band of Central Scotland Police and we look forward to enhancing and building on the talent already in the band."
Derek Penman, Chief Constable of Central Scotland Police, added: "The force is proud of the seven year association we have had with the band, which saw police officers, police staff and members of the community represent Central Scotland Police.
"The band has enjoyed excellent success over this period and I wish them well for the future."