Dundee attacker wins Scotland's first video-link appeal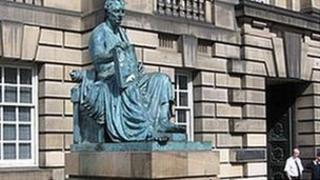 A man found guilty of a Dundee assault has had his jail sentence more than halved after an appeal over video-link.
Christopher Wilkie, 23, was in prison while his case was argued at the Court of Criminal Appeal in Edinburgh using video conferencing technology.
He was originally jailed for 40 months after being convicted of attacking Paul Scroggie at Buttars Place on 1 November last year.
It is the first time a video-link has been used in a prisoner's appeal.
The split screen showed the judges and clerk, the lawyers taking part in the appeal and Wilkie in a room in Glasgow's Barlinnie prison.
At the High Court in Edinburgh his prison term was reduced to 16 months after the terms of his conviction was altered to a lesser charge.
Personal appearance
He was also ordered to serve a 370-day prison return order after being freed early from a previous prison sentence when he committed the offence, which was not appealed against.
Up until now prisoners appealing against convictions or sentences have been brought into the dock for the hearing of their cases.
Wilkie, a prisoner at Barlinnie, originally stood trial at Dundee Sheriff Court earlier this year charged with the assault on Mr Scroggie.
It was alleged that he had pursued Mr Scroggie, kicked and punched him and repeatedly stabbed him on the body with a pair of scissors or similar instrument to his severe injury and to the danger of life.
The jury deleted the allegations that Wilkie kicked or stabbed the victim but left in the aggravations of serious injury and danger to life.
Lesser charge
Defence solicitor advocate Chris Fyffe argued that the verdict of the jury was one which no reasonable jury properly directed could return and asked the appeal judges to substitute a conviction for a lesser charge of assault to injury by pursuing and punching Mr Scroggie.
Mr Fyffe said that the only injuries that could be categorised as severe or posing a danger to life were stab injuries suffered by the victim.
The Lord Justice Clerk, Lord Carloway, who heard the appeal with Lord Mackay and Lord Brodie, said that "the fundamental problem" with the verdict was that it was only the stabbing that could have resulted in severe injury or danger to life.
Lord Carloway said the appeal judges had little difficulty in allowing the challenge to the extent of substituting a conviction for assault to injury.
He said they took into account Wilkie's record but also that the new, substituted conviction was significantly less serious and cut his jail sentence.