Dundee University awarded £12m for biomedical centre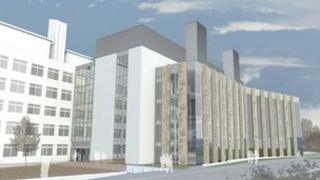 Dundee University has been awarded almost £12m towards the completion of a centre dedicated to translating research into cures for diseases.
The Centre for Translational and Interdisciplinary Research (CITR) aims to reduce the costs of bringing safe new drugs to market.
The money comes from the UK Research Partnership Investment Fund (UKRPIF).
About 180 jobs are expected to be created in Dundee following the completion of the centre.
The UKRPIF requires universities to match the funding by at least double from private companies or charities.
Enhancing capabilities
Dundee University has already raised in excess of £26m.
The university said the £38m CITR project would enhance capacity at Dundee's College of Life Sciences in several key areas, including drug discovery.
Professor Michael Ferguson, dean of research at the college, said: "We have an excellent track record at Dundee of attracting investment from charities and business, particularly the pharmaceutical industry, and using it to deliver innovation and opportunity.
"I would like to pay tribute to all my colleagues, and their research teams, who have secured the match-funding that enabled us to obtain this UKRPIF award.
"It will greatly enhance and accelerate our ability to improve healthcare and contribute to the local and national economies."
Biomedical success
Construction work on the new centre is scheduled to finish in autumn 2013.
Professor Pete Downes, the university's principal and vice-chancellor, said: "This funding confirms the great strengths we have in biomedicine in Dundee and Scotland.
"It will help create world-class capability and infrastructure for interdisciplinary work bringing together basic science, drug discovery, health informatics and mathematics.
"This is also, of course, a very notable boost to economic development of the life sciences sector within Scotland."