Dundee Heritage Trust misses out on Scott's compass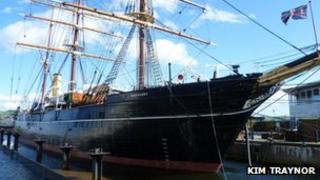 A Dundee museum has been unsuccessful in its bid to buy the compass used by the polar explorer Captain Scott.
The marching compass, used on both the Discovery and Terra Nova expeditions, was sold at auction for £37,250.
Dundee Heritage Trust did manage to purchase a painting of the RSS Discovery, commissioned by the ship's chief stoker.
The trust runs the Discovery Point Museum, where Scott's ship the Discovery is berthed.
The navigation device was among a number of items relating to polar expeditions being auctioned by Christie's on Tuesday.
Compass difficulties
The compass was carried by the Scot and his team in their instrument box on the 1912 journey on the Terra Nova and was returned to his widow following his death.
Capt Scott is reported to have had difficulties with compasses in the trying conditions of the Antarctic, as readings could be variable, writing at the time: "… these compasses are not to be relied upon where the directive force is so small."
Dundee Heritage Trust said they were disappointed not to have procured the compass, but were delighted to have bought the painting of the famous explorer ship.
The trust bought the RSS Discovery in 1985 and it has formed the core part of the Discovery Point Museum since then.
The oil painting by Harold Whitehead called Discovery in Winter Quarters was commissioned by Thomas Whitfield who was the ship's chief stoker.
It was sold for £17,500.
Louisa Attaheri, curatorial assistant with the trust, said: "It's a fantastic piece, it is a contemporary painting, commissioned by Thomas Whitfield, who was chief stoker on board the discovery.
"It was fantastic to be able to bid for something that will be an excellent addition to our collection."