Angus welcomes golf's World Hickory Open Championship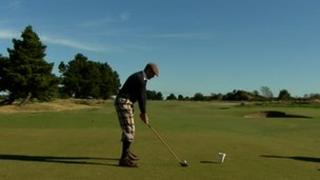 Golfers from across the world have arrived in Angus to take part in the eighth World Hickory Open Championship.
The competition, which is being held at the Monifieth Medal and Carnoustie Burnside courses, is played with traditional hickory-shafted golf clubs.
This year's event has attracted about 100 players from more than 30 countries.
Competitors are limited to clubs made before, or made to replicate those manufactured before, 1935.
The World Hickory Open Championship was first held in 2005 and has become popular across Europe and the United States.
The event's chairman, Lionel Freedman, said: "It is a lot to do with the fact that the game has changed out of all recognition in the last few years and there are people who enjoy the challenge of playing with clubs that were made after the Great War.
"It brings back into play the courses that are far too short for the modern club and ball."
Skill matters
Mr Freedman said that playing well with the old style clubs took a high level of skill.
He said: "A capable golfer will still hit the ball off the tee with a wooden driver or brassie 230 or 240 yards."
But he added: "The swing must be much purer, the sweet spot of a wooden driver or wood is much smaller, so if you hit it off the toe or out the neck, you're likely to possibly hurt your hand and you get no result, whereas with a big modern driver, you still get a result of some sort.
"But if you hit it in the sweet spot, which is extremely satisfying and one of the reasons that I think people enjoy it so much, you get a very nice sound and you get a great result."