Ninewells Hospital parking charge rise criticised by Dundee MSP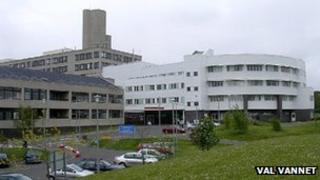 Increases in the cost of parking at Dundee's Ninewells hospital have been criticised by a local MSP.
Joe FitzPatrick has demanded Vinci Park explain their reason for charging drivers more to park at the site.
The car park operator is increasing daily and short-stay charges from £1.90 to £2, weekly tickets are increasing by 50p from £9.50 to £10, and monthly staff permits by more than £1.
Vinci Park said the rise was in line with inflation.
The increase in the cost of parking at Ninewells is the third rise in less than two years.
Unfair tax
Mr FitzPatrick, who represents Dundee West, has written to Vinci Park demanding an explanation as to why they felt it was necessary to increase the charges.
The SNP MSP said: "The parking costs at Ninewells are already at an unacceptable level. Parking charges are a tax on ill-health which is born by patients, their visitors and relatives and health staff.
"With the Scottish government having removed hospital car park charges across Scotland, except where our hands are tied with long-term PFI deals, I would have thought a socially-responsible company would have held off from introducing any increases."
The 30-year contract with Vinci Park UK Ltd began in 1998 and will conclude in 2028.
Inflationary rise
A spokesman for Vinci Park said: ''We can confirm the tariff for all day visitors parking at Ninewells Hospital will increase from £1.90 to £2.
''As agreed with the trust, this will be effective from 1 November. This increase takes into account the rise in the retail price index next year.''
NHS Tayside's Dundee Site and Support Services Manager Rod Edgcumbe said: "The Ninewells Hospital car parking arrangement is operated under PFI conditions.
"Car parking charges at Ninewells are reviewed every year by car parking operator Vinci Park UK Ltd and the new parking charges are a result of this annual review."