Fatal overdoses prompt NHS Forth Valley heroin warning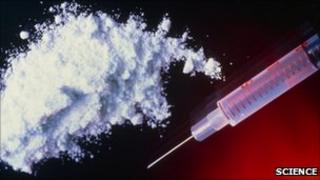 A warning has been issued about the dangers of taking heroin with other drugs following a spate of deaths in Falkirk, Stirling and Clackmannanshire.
NHS Forth Valley said evidence suggested five people had died after using heroin with other substances including alcohol.
The health board said the deaths had occurred in the past week.
Drug users are being urged to obtain Naloxone, which can reverse the effects of an opiate overdose.
NHS Forth Valley said the drug was available in a pocket size kit and could be administered while waiting for an ambulance.
They also said family members and friends could receive training on overdose prevention.
Dr Henry Prempeh, NHS Forth Valley consultant in public health medicine, said: "Naloxone has the potential to reduce drug-related deaths in Forth Valley and I would urge anyone with a drug problem to get in touch with our support services. This action could save a life."
Central Scotland Police has also expressed concern about the deaths.
Ch Supt David Flynn, head of communities policing, said: "We are seeing the tragic deaths of men and women in their 30s and 40s, all with a history of drugs use, particularly heroin.
"This is of great concern to agencies across the Forth Valley. Each death is under investigation. However, they are not thought to be suspicious and have no obvious links."
The Forth Valley Alcohol and Drug Partnership has advised family members and friends of drug users to make themselves aware of the early symptoms of an overdose.
The agency said the danger signs could include loud snoring, lips turning blue and shallow breathing. If any of those signs were observed, a 999 call should be made immediately.