The Enchanted Forest in Pitlochry marks 10 years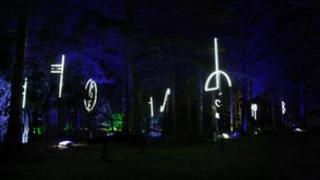 One of Perthshire's most popular attractions is hoping to bring in record numbers as it celebrates its 10th anniversary.
The Enchanted Forest was first created in October 2002 near Dunkeld, but has been based in Pitlochry since 2005.
Since its launch, the sound and light show has attracted almost 150,000 visitors.
Organisers are hoping ticket sales for this year's event will surpass the heights of 2011's box office record.
More than 26,500 people are expected at the Perthshire Big Tree Country event during its 23 night run, which starts later at Faskally Wood in Pitlochry.
The Enchanted Forest uses the natural environment as the backdrop for a traditional son et lumiere show.
'Wow factor'
The event has attracted international acclaim and has won a string of awards in recent years, with recognition from the Scottish Event Awards, VisitScotland and the Perthshire Chamber of Commerce.
Eddie Thomson, chair of the Highland Perthshire Area Community Interest Company, which runs the Enchanted Forest, said they were looking forward to celebrating their 10th anniversary.
"We have the support of the community, the backing of Creative Scotland and formidable creative and operations teams, who together achieved record results with last year's show, bringing over 26,500 visitors to the area at this very crucial time of year for local tourism," he said.
"We are confident that this year's show will deliver the wow factor that the Enchanted Forest customers expect and give everyone good cause to celebrate 10 years of holding this event in Highland Perthshire".
Local MP Pete Wishart formally opened the event, which he said was "undoubtedly one of Scotland's finest".
"Not only does it provide an essential boost for the local economy, it opens up the beauty of this area's stunning scenery to literally thousands of people, and showcases it in a brand new light," Mr Wishart said.
"I can't think of a better way to cheer up these October evenings than a trip to The Enchanted Forest. The number of visitors that The Enchanted Forest draws into Perthshire at a time that might otherwise be pretty quiet in terms of tourists is simply magical."