Forfar clubs and pubs to cut crime with radios and CCTV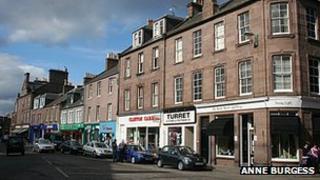 Pubs and clubs have been linked up to a new radio system in an effort to cut crime in an Angus town.
The owners of 10 licensed premises in Forfar have agreed to take part in the Radiolink System initiative.
The scheme allows pubs and clubs communicate with each other via radio, warning establishments about anyone who has caused trouble.
Premises are also linked to a CCTV suite monitored by Tayside Police, who can react quickly to any incidents.
Those involved in the scheme can share information on anti-social behaviour and alcohol-related crime, preventing trouble makers just moving from pub to pub.
Insp Ally Robertson said the Radiolink System should make a difference to the town's nightlife.
He said: "I am delighted to see that the partners involved in the Pubwatch scheme in Forfar have decided to invest in the radio link initiative.
"I have been impressed with their efforts thus far in ensuring that people coming to Forfar for a good night out will have an enjoyable and safe evening and will come back. This initiative will strengthen their team and assist in preventing anti-social behaviour."