Dundee University to lead Indian work placement scheme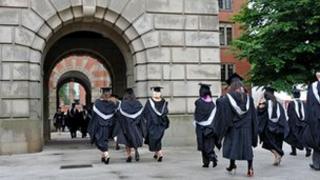 Dundee University is to take a lead role in a government initiative aiming to help UK graduates live and work in India.
The university will be responsible for recruiting students from across the UK for its global internship graduate certificate.
Indian firm Sannam S4 will then find them work placements.
The programme, which is funded by the British Council, will be open to applications later this month.
The UK-India Education and Research Initiative (UKIERI) work placement programme will aim to give graduates an insight into India's business world at a time when many UK firms are trying to gain a foothold in the region.
Increased employability
Professor Pete Downes, principal and vice-chancellor of the university, said it could prove to be a life-changing experience for successful graduates.
He said: "They can take the opportunity to explore India, one of the most vibrant cultures in the world, and boost their employability when they return to the UK."
New Delhi-headquartered Sannam S4 will identify work placements for the graduates across a wide range of industries in a number of cities.
Its chief executive Adrian Mutton said: "When it comes to the true commercial potential of India we're only just beginning - as evidenced by the fact that 20% of the world's population now lives here.
"Our company helps overseas companies find their feet in this complex and colourful marketplace, so it was a natural progression to get involved in this programme and help a new generation of UK business people discover the excitement of living and working here."