Garbage girl to clean up Stirling in day of action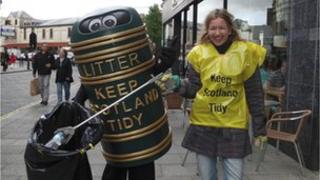 A woman who has spent the past three-and-a-half years collecting rubbish in northern India is turning her attention to Stirling.
Jodie Underhill became known as the Garbage Girl after setting up a charity dedicated to cleaning up part of the western Himalaya mountain range.
Her charity Mountain Cleaners has been removing litter since 2009.
The 36-year-old is now working with Clean Up Britain (CLUB) to promote a litter pick-up in Stirling.
She is hoping to have residents in Raploch, Riverside and Springkerse join her on 6 October in removing as much rubbish as possible from their local areas.
Ms Underhill was appointed director of the Clean Up Stirling Day, following her time in India, which she said had changed her attitudes to rubbish forever.
She said: "I've travelled a lot of the world and have never been so shocked or dismayed to see how filthy India was.
"There is garbage, litter, whatever you want to call it, absolutely everywhere. I spent days on buses, trains, just thinking we would get somewhere that would be clean. And sadly that was not the case."
The 36-year-old said when she got to the Himachal Pradesh state in the far north of India she thought the Himalayan landscape would be different, given that it was the source of much of India's water supply and the home to Tibet's exiled spiritual leader, the Dalai Lama.
But she said, even there, the amount rubbish was overwhelming.
"It was absolutely filthy," she said.
"I remember the bus actually stopping right next to garbage. We had to actually step into it to get off the bus."
Others cared
She then volunteered to help in a local clean-up project but was turned down because she could only spend two months in the area.
Undeterred she took action herself and organised a day of action in which 200 people turned up.
Ms Underhill said the success of the early events showed that others did care about the state of the countryside, but that the system for dealing with rubbish needed to be improved.
It became clear to her that the locals needed to be encouraged not to burn or throw away their rubbish, but to keep it for the weekly pick-ups she had organised.
Since then Mountain Cleaners has continued to provide people in Himachal Pradesh with options to either dispose of their waste correctly, reuse it or recycle as much as possible.
Council cleaning
The scale of the problem for Ms Underhill in India made the idea of litter in Britain seem almost trivial at first.
She said: "When I first came to Stirling, I was a little bit concerned about finding enough garbage to clean, because after being in India everything looked so immaculate.
"All I could see everywhere was council workers sweeping up and picking up and cleaning."
However, she soon discovered otherwise.
"We went to Raploch and along the riverbank there is a lot of people throwing things over the fence. There's a lot of litter over the fence. Riverside, again, a beautiful area, but litter over the fence."
She said in some ways the issue was similar to India - poor education.
"People drop litter and I really don't believe they think that it has an impact and they think it is not them that is contributing to the litter problem.
"They just think it's just one piece and it does really matter. The fact is, it does matter."
She said she heard stories from street cleaners about some people's attitude.
"I have had some quite interesting conversations with the council workers, and they've told me they have had people drop litter at their feet as they're cleaning.
"They'll tell me how they'll clean a street and they look behind them and find its littered again. And this is really frustrating."
Average town
Clean Up Stirling Day is being organised by the Clean Up Britain (CLUB), who are hoping the event will be rolled out to other towns and cities across the UK.
Stirling has been chosen because of its connection with Keep Scotland Beautiful, who have headquarters in the city, but also because it represents the average British town.
Ms Underhill said she was hoping to achieve the same success in Scotland as she had in India.
She said: "The reception to the event has been really good, we've had a lot of interest, we really want people to come along and support us."
"We're hoping to see people of all ages and from all walks of life coming together to do their bit for the community."
"When you get involved in cleaning, you do think twice about dropping litter."