Sleeping driver jailed over Clackmannanshire crash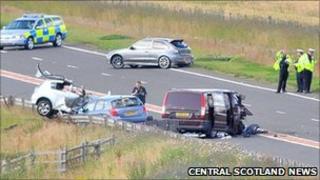 A driver who caused a fatal four car pile-up by falling asleep at the wheel in Clackmannanshire has been jailed for 52 months.
James Moran pleaded guilty to causing death by dangerous driving on 5 August last year.
The 60-year-old was also over the legal alcohol limit when his van swerved into oncoming traffic on the A876 near the Clackmannanshire Bridge.
Peter Harper, 44, died of multiple injuries following the crash.
Advocate depute Kath Harper, prosecuting, told the High Court in Edinburgh that Moran had left his Menstrie home about 06:00 on 4 August 2011 to take part in a charity golf event with a friend.
They attended a dinner and presentation at a hotel, where wine was served.
Moran went to bed but got up early to drop his friend off at his home in Armadale in West Lothian before making his way back home.
Swerving lanes
Ms Harper said the scene of the accident was a three lane stretch of road where there were two lanes for north-bound vehicles and one lane for south-bound traffic.
Moran, was heading north when he swerved, forcing another car onto the grass verge to avoid a collision.
Driver John Copeland, 43, later told police Moran had his chin on his chest and his head was moving with the motion of the van.
Mr Copeland drove on, watching in his rear-view mirror as Moran's Mercedes Vito strayed into the path of three on-coming vehicles.
He hit a grey MG causing the car to spin then collided with Mr Harper's Vauxhall, which landed on the bonnet of a Blue Kia behind them.
The court heard that a firefighter and a passing GP who were at the scene were unable to save Mr Harper, who had been driving to work in Broxburn.
Defence advocate Barry Smith said his client could not remember what had happened, but accepted he had fallen asleep at the wheel.
Tormented by accident
Mr Smith said Moran apologised to the Harper family. "He has a sense of all the damage this has caused and will continue to cause. He sincerely regrets his action."
The lawyer continued: "He will struggle to come to terms with what he considers to be a gross error of judgment.
Mr Smith added: "He is tormented that a man died as a result of his action when he himself survived."
Jailing Moran, judge Lord Turnbull told him the prison term was not meant to measure the Harpers' loss.
Lord Turnbull added: "It will probably seem insignificant in comparison with the sentence you have imposed on that family."
Moran, who has four speeding offences on his licence, was also banned from driving for ten years.