A9 lorry driver David MacDonald fell asleep before fatal crash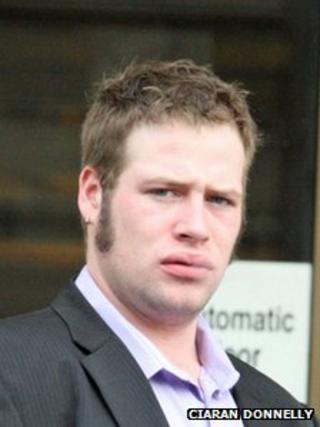 A lorry driver who caused a fatal crash on the A9 after falling asleep at the wheel has been told he faces jail.
David MacDonald's tanker had drifted across the road before smashing into a lorry being driven by 57-year-old Gordon Cooper, who died in the crash.
At the High Court in Edinburgh, the 25-year-old admitted causing death by dangerous driving on 23 December 2010.
Lord Bracadale deferred sentence but told MacDonald to expect a custodial sentence.
The court was told that two teenage friends of MacDonald had been accompanying him on the trip.
Trapped in cab
Moments before the collision, one of the teenagers noticed the tanker was starting to drift across the road and screamed at MacDonald.
Advocate depute Stephen O'Rourke said that after the collision Mr Cooper, from Montrose, Angus, was trapped in the cab, pinned by the steering wheel.
When firefighters removed the cab structure, no trace of a heartbeat could be found.
Mr O'Rourke said Mr Cooper's injuries, which included a fractured skull and bleeding within the brain, were "not survivable".
MacDonald, from Aviemore, was thrown from the cab of his vehicle in the crash, resulting in the loss of his right leg below the knee and a fracture to his left leg.
Tachograph irregularities
The advocate depute told the court: "The collision happened because the accused appears to have fallen asleep at the wheel, having failed to have regard to the statutory periods of rest set down for HGV drivers."
He said: "Following the collision an investigation was carried out by Tayside Police and a number of irregularities were identified in the tachograph records for the accused's lorry.
"In essence, however, it appears that he had failed to take sufficient rest on the period leading up to the collision."
MacDonald admitted causing the death of Mr Cooper by driving dangerously on the Perth to Inverness road, between Dunkeld and Ballinluig, while he was excessively tired.
Lord Bracadale continued bail and deferred sentence on MacDonald for the preparation of a background report.
However, the judge said it was an "extremely serious" offence and that he should expect a custodial sentence.