Dundee tobacco factory sees three arrested after raid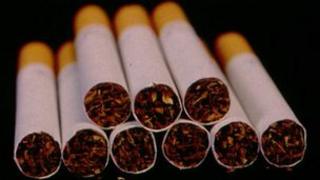 An illegal tobacco 'factory' has been uncovered in Dundee following a raid by Tayside police and customs officers.
HM Revenue & Customs (HMRC) said they uncovered hand rolling tobacco and cigarettes worth more than £7,000 in unpaid duty and VAT during the raid at a flat in the Hilltown area of the city.
More than 5,000 smuggled cigarettes were seized along with £1,740 in cash.
Officers have arrested three people in connection with the find.
Following a search of the property HMRC said they had seized 34.5kg of tobacco, enough to make 690 counterfeit pouches of hand rolling tobacco.
They also found fake foreign tax stamps, cellophane wrappers, heat sealers and a large quantity of vinegar - used to preserve the smuggled tobacco - on the premises.
Questionable value
HMRC's assistant director of criminal investigation David Odd urged people to be wary of illicit tobacco: "Cheap tobacco may seem like a bargain at the time, but this was packaged in less than ideal conditions.
"Tobacco factories like this are packaging low quality products and I'd urge people to be wary - if you're offered tobacco at a price that seems too good to be true - then it probably is."
Two Chinese men and a Chinese woman were arrested in connection with the find and have been charged and released pending further investigations.