Scottish Government to boost eco-friendly bus purchases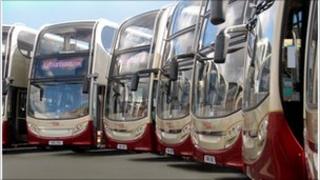 The Scottish government is to provide an additional £2.5m to encourage bus companies to buy environmentally-friendly vehicles.
Transport Minister Keith Brown made the announcement during a parliamentary debate.
The money is part of the Scottish Green Bus Fund, which has already helped bus firms purchase more than 70 low-carbon buses.
Bus operators will now be invited to apply for a share of the funding.
The government has already invested £9.2m in the scheme since 2010 and has allowed bus operators to purchase 74 eco-friendly vehicles, which produce 30% less emissions and use 60% less fuel than conventional diesel buses.
'Real benefits'
Mr Brown said: "The Scottish Green Bus Fund has already been a huge success and is further evidence of everything this Government continues to do to support the bus industry, how we are working to meet our ambitious climate change targets and our investment in supporting Scottish jobs.
"Green Buses also help operators to keep their running costs down thanks to the massive reductions in fuel consumption and this can only be good news for passengers.
"We want the people of Scotland to experience the very real benefits of Green Buses and this announcement will have a huge impact on that ambition."
Falkirk based bus makers, Alexander Dennis Limited, who manufacture a number of eco-buses welcomed the announcement.
Significant reductions
Colin Robertson, the firm's chief executive officer said: "Thanks to initiatives like the Scottish Green Bus Fund, our business is now established as one of Europe's leading suppliers of low carbon hybrid-electric buses, supporting 900 jobs in Falkirk and a further 2,000 in our vast supply chain network.
"Our hybrids are currently demonstrating a 60% reduction in fuel and CO2 compared to many conventional diesel buses. We will take our next-generation hybrid to another level in 2013 and I expect to see that improvement figure move towards 70%."
"These are vehicles that keep their promises and can make a huge contribution towards clean-air initiatives in city environments."