NHS Tayside extends MMR vaccine campaign to under 24s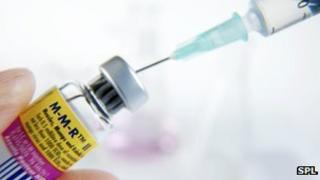 A health board is giving children and young people the chance to be vaccinated against measles, mumps and rubella.
NHS Tayside has been offering the MMR vaccine to school pupils in S3 to S6, but it is now extending the campaign.
Health officials said anyone under the age of 24 who had not received two doses of the jab could now get it from their local GP.
People are usually vaccinated when they are 13 months old.
The MMR vaccine gives protection against measles, mumps and rubella which are all highly infectious viruses and can in some adult cases cause serious complications.
Increase in cases
NHS Tayside warned that measles was re-emerging in Western Europe and that there had been a recent increase in the numbers of measles cases in Scotland and the rest of the UK, especially among those who had travelled abroad.
The board also said there had been a rise in the number cases of mumps amongst young people in Tayside.
Dr Chris McGuigan, NHS Tayside consultant in public health medicine, said, "The safest and most effective way of preventing measles, mumps and rubella is the MMR vaccine.
"It's never too late to get the MMR vaccination and I would encourage young people and parents of young children to ensure vaccinations are up to date by contacting their GP for advice."