Perth Theatre transformation project gets £2m boost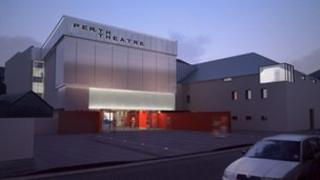 The transformation of a 113-year-old theatre in Perth is a step closer following a significant funding boost from Creative Scotland.
Horsecross Arts has been awarded £2m to help them upgrade Perth Theatre.
It brings the total funding raised for the renovation to £9m. The project is estimated to cost £13m.
The proposal for the refit of the theatre was announced in 2008 and plans by Richard Murphy Architects have already been drawn up and approved.
The award adds to the £3m already committed by Perth & Kinross Council and a £3m grant from the Gannochy Trust.
Fantastic news
Additional funds have also been secured from the Heritage Lottery Fund and other trusts, foundations and individual donors.
Jacqueline McKay, chief executive designate of Horsecross Arts, the organisation behind Perth Concert Hall and Perth Theatre, expressed delight at the award calling it fantastic news.
She said: "£2m from Creative Scotland is a giant leap forward in the Transform Perth Theatre project and rewards all the hard work the Horsecross team has been putting in to develop and promote this exciting and transformative proposal."
"Horsecross Arts is determined to restore Perth's beautiful Edwardian auditorium and to create around it a vibrant, engaging and welcoming cultural landmark that the people of Perth and the whole of Scotland will visit and be proud of for many years to come."
Efforts recognised
The work on the theatre, which was opened in 1900, will see the period features of the B listed Edwardian auditorium meticulously restored and access improved throughout the building.
The leader of Perth and Kinross Council, Councillor Ian Miller, said: "Horsecross Arts' bid was a strong one, with substantial funding already in place, and this award recognises the considerable work that has gone into the submission.
"By adding significantly to the funding the Council and The Gannochy Trust have already committed, Creative Scotland has endorsed the project and this will encourage other funders."