Dundee Council promises more fines in litter crackdown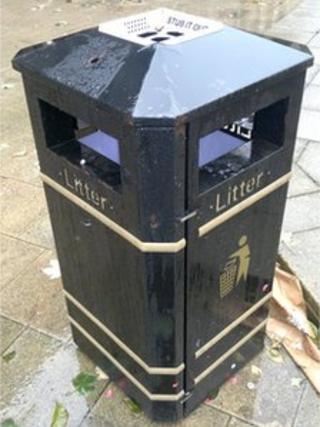 Dundee City Council is to increase its use of fines in a bid to crack down on those found guilty of littering.
A campaign has been launched that will see those failing to clean up after themselves actively targeted and issued with a £50 penalty notice.
The council is particularly keen to cut the levels of littering, dog fouling and discarded cigarettes.
The authority is also running an initiative to reduce lunchtime litter near secondary schools.
Dundee City Council's environment convener, Councillor Craig Melville, said he hoped the fines would make those who litter think twice.
"I am sure everyone will agree that it's imperative for the council to use every power at its disposal to make sure that those who spoil the environment pay the price for their selfishness," he said.
"We all have the ability to change bad habits but for those unwilling to take heed of the advice given, fining them is often the best way to do this.
"City council officers constantly monitor the situation and hand out fixed penalty notices where appropriate. We are giving people notice that we will now be increasing this activity."
Mr Melville also said preventing littering would save the authority money the long-run.
"A clean environment is healthy for everyone, while it also saves money that would have to be spent clearing up because somebody could not be bothered finding a bin," he added.
"The city council provides bins across the city, and dog fouling bags are available free of charge from libraries and other facilities. There is simply no excuse."