Angus and Dundee Colleges are to merge following talks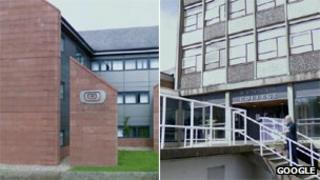 The boards of Angus and Dundee Colleges have agreed to pursue a merger following discussions over the Scottish government's regionalisation agenda.
It means a new college with about 35,000 students will be created to serve the Angus and Dundee city areas.
The boards had also discussed an alternative option of creating a federation between the two colleges.
A plan on how the merger process will take place will be drawn up over the next few months.
In a statement, the colleges said they will seek to build on the current strengths of both institutions while serving the educational needs of their respective communities.
Next steps
A spokesman for Dundee College said: "While this decision is momentous, we are only approaching the starting blocks in terms of sorting out the fine details of full merge.
"The Scottish Funding Council estimates that it takes a minimum of 14 months to complete a merger of this sort.
"Once this is certain, however, staff at all locations will be working hard to ensure that all college stakeholders, students, employers, parents and schools continue to be offered the best possible service."
He added that it was expected the colleges would emerge stronger following the merger: "Both organisations have long tradition of service to the community which will not be compromised by any change in status but will be enhanced even further."
Redundancies opposed
Commenting on the merger, a spokesman for teaching union the EIS said: "Any potential merger of further education colleges must be supported by a clear educational rationale, and not driven by a cost-cutting agenda.
"The EIS would oppose any suggestion of compulsory redundancies as a potential result of this, or any other, college merger.
"It is imperative that the proposed Angus/Dundee merger is viewed as a merger of equals and not a takeover by the larger college."
Dundee College operates at two sites within Dundee and is one of largest colleges in Scotland with about 23,000 students.
Angus College serves about 11,500 students. Its main campus is in Arbroath with four satellite centres in Forfar, Montrose, Brechin and Kirriemuir.