Tayside Police continue tests on human remains in Errol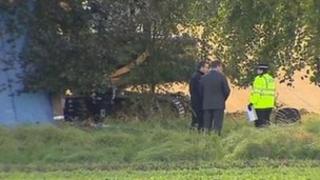 Tayside Police have confirmed that they are continuing attempts to formally identify skeletal remains discovered in farmland near Errol.
The discovery was made as part of the search for the body of Adam Alexander, who was killed 13 years ago.
Officers said they expected the results of various tests, including dental recognition and DNA matching, to be available within a number of days.
The 46-year-old was killed by his friend Thomas Pryde in 1999.
Pryde was sentenced to 10 years in prison in 2010 after admitting culpable homicide.
Although, he told police where he had placed the 46-year-old lorry driver's body, it had not been found despite searches in a number of sites in the area.
Police announced that they had uncovered human remains at Muirfield Farm near Errol on Tuesday.
Detective Chief Inspector Greig Steele said: ''Against the background of a longstanding investigation that spans more than a decade, it is important that we do not jump to any conclusions.
"Mr Alexander's whereabouts have not been known for 13 years and it is absolutely correct that we use all means available to us in trying to find the answers we are seeking for those most affected by this tragedy.''