Arbroath honours man who pioneered Salvation Army in US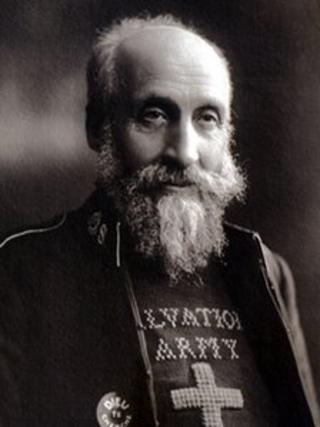 An Angus man who helped found the first Salvation Army mission in America has been honoured in his home town.
A commemorative plaque has been unveiled celebrating George Railton, who was born in Arbroath in 1849 and became the first "national commander" of the charity in the United States.
The memorial is displayed at the town's St John's Methodist Church.
The Salvation Army is now one of America's biggest charities, with more than 120,000 members.
George Railton lost both his parents to fever when he was 15-years-old and left Arbroath to work in London, where he joined the Salvation Army. In 1880 he travelled to New York to start the church's first mission in the country.
Famous son
The plaque in Arbroath mirrors a similar memorial in New York's Battery Park.
Major Jim McCluskey, former commanding officer of the charity in Arbroath, said: "Railton is one of Arbroath's most famous sons and his role in the Salvation Army cannot be overestimated.
"Without him, I don't think it would exist in the form it does today.
"We are absolutely delighted to be involved in a project which will bring new recognition to such an important figure."
In his later life, Railton extended his work to other parts of the world including China and Japan.
He died at the age of 64 in 1913 after collapsing while running for a train with heavy baggage. He was buried beside the Salvation Army's founder William Booth in London.
'Bold leadership'
Railton's modern counterpart, Commissioner William Roberts, leader of the Salvation Army in the United States, said the charity would always be grateful for the work of the Arbroath man.
He added: "His bold leadership immediately captured the attention of the American public and his organisational skills cast a sure foundation for the army that still profits us to the present day."
Angus Provost Helen Oswald said Railton left a lasting legacy: "We are very proud of our connection to George Scott Railton, and the significant contribution he made to develop the work of the Salvation Army in America, and across the world.
"Indeed to this day, Angus Council works in partnership with the Salvation Army to support some of the most vulnerable people in our community, making a huge difference to the quality of life of many of our citizens."