Body recovered during search for Adam Alexander's remains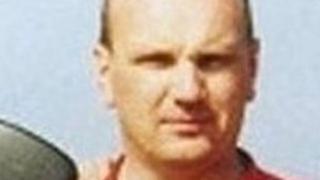 Police searching for the remains of a man killed almost 13 years ago have recovered a body.
Adam Alexander died when businessman Thomas Pryde attacked him with a metal bar at the victim's home in Errol, Perthshire, in November 1999.
Part of a human calf bone was found in a field on Muiredge Farm, Errol, on Tuesday in the latest search by police.
Forensic experts joined a second day of excavations during which a body was recovered.
The remains have been taken to the police mortuary in Dundee for formal identification and further forensic examinations will take place in the field on Thursday, police said.
Pryde, from Scone in Perthshire, admitted killing Mr Alexander and was jailed for 10 years in April 2010 for what judge Lord Bracadale called a "most disturbing crime".
The judge heard that Pryde's wife went to police in 2007 after her husband confessed to the killing during a drunken row while on holiday in Greece.
Pryde told police that he "just completely lost the plot" and attacked the lorry driver with a bar after the pair had argued.
He told officers: "I took him along by the brickworks and buried him. It's never been out of my mind."
On Wednesday, Mr Alexander's mother visited the site where the remains were found.