Two jailed after Perth drug deal in front of police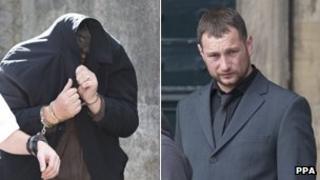 Two men have been jailed after being caught exchanging £40,000 worth of drugs at the scene of an undercover police stakeout in Perth.
Perth Sheriff Court heard Scott Kirton, 43, and Kevin Malone, 28, were caught by officers who were monitoring a completely different drugs gang.
Sheriff Michael Fletcher told both men he had no option but to send them to prison.
Kirton was jailed for four and a half years and Malone given 27 months.
The pair were observed passing £40,000 pounds worth of mephedrone and £20,000 in cash by officers in a car parked just yards away at the Travelodge car park in Broxden in Perth.
Further discovery
Officers had set up with the intention of catching another drug deal, resulting in them catching both gangs.
The accidental discovery also led to a further £15,000 worth of cocaine being discovered in Kirton's home.
Fiscal depute Catherine Fraser told Perth Sheriff Court: "On 14 October two drug squad officers were on duty in an unmarked police car at the Travelodge on another operation."
She said how the police had watched as the two men arrived and signalled each other and then saw Kirton take a carrier bag from Malone's car boot.
Ms Fraser said: "Officers suspected they might have seen a drugs handover."
The court was told Kirton's car was traced using his registration plate where they found £20,000 pounds cash along with 2kg of mephedrone, with a street value of £40,000.
'Easy money'
Kirton from West Calder and Malone from Dundee both admitted being concerned in the supply of methylmethcathinone.
Kirton's solicitor, Mike Tavendale, said his client had previously been a businessman, selling fire alarms, but had been made bankrupt and had seen drug dealing as a way of making "easy money."
He said his client owed money to the Inland Revenue after being cheated out of cash by his former accountant, who he claimed had since fled to South Africa.
Solicitor Ross Donnelly, for Malone, said his client was a family man who worked as a self-employed scaffolder and who helped run a boys' football team.
He said: "What the police stumbled on in the Travelodge car park was Mr Malone returning money to Mr Kirton when he had been requested to do so. He accepts he was involved in the supply of drugs."
Sheriff Michael Fletcher told both men they had been involved in the supply of high value drugs and that he had no option but to send them to prison.