Adam Alexander's mother 'overwhelmed' by bone find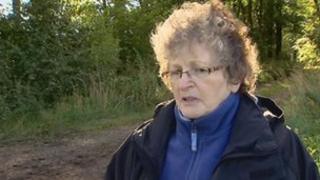 The mother of a man killed in 1999 has said she will wait patiently to see if a bone found in a Perthshire field belongs to her son.
Officers searching for the body of Adam Alexander in agricultural land near Errol found what is believed to be a part of a left fibula on Tuesday.
Patricia Bremner, who has visited the scene of the discovery, said the find was quite overwhelming.
A forensic recovery is currently being carried out by specialist officers.
Ms Bremner said the discovery at Muiredge Farm was emotional for her: "I just felt quite overwhelmed, in one sense and I thought myself, thank you God, my prayers have been answered.
"But, I still have to wait on the official identification of the remains that the police have found."
The operation to recover the remains is expected to take several hours and may run into Thursday.
Ms Bremner said she was prepared to wait as long as long as it took: "I'm in my 13th year now, what is another day if this is Adam, we've made progress."
Thomas Pryde was jailed for 10 years in 2010 for the killing of Adam Alexander.
Pryde said he attacked the 46-year-old lorry driver with a metal pole, after a row in 1999.
Following his arrest Pryde told officers where he buried the body but a large-scale search in 2008 failed to find any trace of Mr Alexander.