Dundee researchers find chemotherapy efficacy gene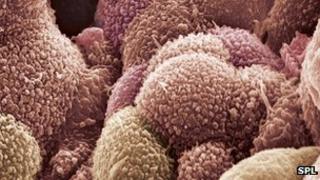 Dundee University researchers believe they have found a way to predict the effectiveness of chemotherapy drugs in fighting ovarian cancer.
Scientists have discovered a gene called FGF1 was highly active in aggressive, advanced ovarian cancers.
They observed it was present at higher levels in cancer cells that were resistant to a common treatment for the disease.
The team hope the findings help to develop new cancer treatments.
Researchers measured amounts of a variety of genes in 187 ovarian cancer patients and found each cancer had a unique range of active genes.
Drug resistant
However, FGF1 appeared to playing the greatest role in determining how cancers behave.
The team, based at the University's School of Medicine, found the gene called FGF1 was found at higher levels in cancer cells that are resistant to platinum chemotherapy treatments, such as carboplatin and cisplatin.
As a result, women with high levels of FGF1 are less likely to respond to these drugs and have a poorer prognosis.
The scientist believe measuring how active the gene is could predict which women with ovarian cancer will benefit from the drugs.
Paving the way
Dr Gillian Smith, who was involved in the study, said: "We're excited by these results because they identify potential ways that ovarian cancer builds resistance to common chemotherapy drugs over time.
"Our study paves the way for the development of new tests to determine if chemotherapy will work and suggests that drugs targeting FGF1 could be effective new treatments for a group of women with a type of ovarian cancer that is difficult to treat successfully."
The also discovered FGF1 activity increases after ovarian cancer cells become drug resistant.
The scientists learned that by blocking FGF1 in ovarian cancer cells resistant to platinum drugs, they were able to make them sensitive to chemotherapy again.
The study, funded by Cancer Research UK and the Scottish Funding Council, has been published online in the British Journal of Cancer.