Homeless woman jailed for sword theft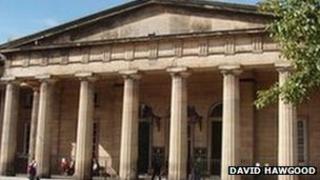 A homeless Perth woman has been jailed for stealing walking sticks, ceremonial swords and a replica handgun from a man who allowed her to live in his house.
Perth Sheriff Court heard Susan McElwee, 30, had been given free run of the house in the city's Moulin Crescent because the owner pitied her.
The man later found the collectable items in an antique dealer's stall after noticing they were missing.
Sheriff Jack Brown ordered McElwee to serve eight months in prison.
In addition, he sentenced McElwee, a heroin addict, to a further 100 days at Cornton Vale, from which she was out on licence at the time of the theft between 2 and 10 September.
McElwee had been released in February, having served half of a two-year sentence for assault and robbery.
Fiscal depute John Malpass said: "The complainer is a person who befriended the accused through a mutual friend. He is 61.
"He took pity on the accused because of her transient lifestyle.
"As a result she was allowed free access to his house. She was left on her own in the house on several occasions and the complainer noticed these items missing.
"The walking sticks had ornate handles, the swords were ceremonial and all the items were collectable.
"When they went missing the accused was immediately suspected."
The antique dealer returned the stolen items to the victim's home and contacted the police.
Solicitor Cliff Culley, defending, said McElwee had been undertaking voluntary work - including cleaning churches - since being freed from prison in February this year.
"She stayed occasionally at a friend's house and these items were in the house," he said.
"It was opportunistic. She was short of money so she took them and sold them for £80-£100."