Andy Murray offered freedom of Stirling after US Open victory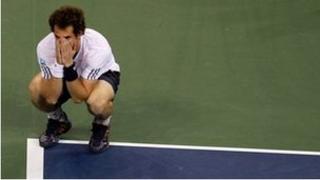 US Open champion Andy Murray has been offered the freedom of Stirling after his grand slam victory.
Stirling Council has been in touch with Murray's management team to discuss an appropriate tribute to what it called "the local hero".
The 25-year-old from Dunblane, near Stirling, beat Serbia's Novak Djokovic in five sets.
Murray's mother Judy told BBC Scotland that watching her son's match in New York had been "absolute torture".
She said the "momentum" had been with Djokovic after Murray had lost a two-set lead.
"But at the start of the fifth I had a feeling," she said.
"I could see from Andy's face and his mannerisms that he wasn't going to let it get away from him and he did an incredible job.
"It was just an incredible experience and I'm so delighted for him that he's got his first Grand Slam at last."
Murray's triumph at Flushing Meadows followed his gold medal at the Olympics last month.
'Means the world'
Fred Perry was the last British man to win a Grand Slam when he picked up the US Open title in 1936.
Speaking after his victory at Flushing Meadows, Murray said: "It is what I have been working towards for the last 10 years of my life.
"It means the world to me."
There were jubilant scenes in Dunblane as he clinched the title.
Speaking from his home town, Murray's grandmother, Shirley Erskine said: "You could see how the Olympics gave him tremendous confidence and following on from that, with a Grand Slam that will give him even more confidence.
"He knows he can go out there, the monkey's off his back now.
"He won't be known as the best player Britain ever produced never to win a Grand Slam, and it's lovely to know that tag won't stick to him now.
"I'm sure it will give him the confidence to push on and go for more glory".
His achievement has sparked tributes from prominent figures including Prime Minister David Cameron and Scottish First Minister Alex Salmond.
Mr Salmond spoke to the US open champion by telephone on Tuesday afternoon. In a message on Twitter, the first minister said he passed on "everyone's congratulations on his wonderful victory" against Novak Djokovic.
Actor Sir Sean Connery Manchester United manager Sir Alex Ferguson, who watched the match in New York, also hailed the victory.
Stirling Provost Councillor Mike Robbins said: "It's a match that no-one who watched it, or listened to it on the radio in the wee small hours, is ever going to forget.
"The whole community will want to congratulate Andy on his first Gland Slam title, and on the glorious, warrior-like way he won it.
"He's proved himself as an outstanding athlete and a man of true grit, and we'd love to offer him Freedom of the City of Stirling as a lasting mark of our thanks, our support and our respect."
He added: "We're keen to celebrate this latest fantastic feat in the way that Andy chooses.
"We are so looking forward to welcoming him back and showing just how proud of him people across the Stirling area are."