John McMurchie murder: Wife makes emotional appeal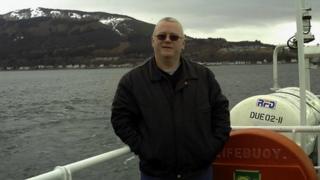 The wife of a man murdered in Dundee has appealed for anyone with information to "do the decent thing" and come forward to police.
John McMurchie, from Errol in Perthshire, died in hospital after being found badly injured in Dundee's Fintry Terrace on 12 August.
Donna McMurchie made an emotional appeal to trace the killer of the man she called the "love of my life".
The 39-year-old wept as police read the statement she had written.
Speaking at a news conference, Tayside Police said they had no idea why Mr McMurchie had been killed.
Officers have again urged motorists and pedestrians seen in the area that night to come forward.
Mr McMurchie, a security guard, had left an address in Murrayfield Gardens just half an hour before he was found in the early hours, injured in the street.
Mrs McMurchie was supported by the couple's son Kris and Mr McMurchie's sister-in-law Paula Thomas.
Through the statement, she said: "John was my rock. He always made me feel safe and protected.
"Now the whole family is struggling to come to terms with the cruel and untimely way that John was taken.
"To have lost him in this way is heartbreaking and it has left us with so many questions, questions we know that someone has the answers to if they would only come forward."
She added: "John's killer is still out there and, like the police have done, I appeal to people out there to help detectives with their enquiries.
"Someone out there, in the community, knows what happened to John.
"I would ask them to do the decent thing, ease my family's suffering and tell the police what they know."
Last week police released a CCTV image in a bid to trace a man who later came forward and was eliminated from the inquiry.
'Problematic case'
Crimestoppers has offered a £5,000 reward for information leading to the arrest and conviction of the killer.
A 63-year-old man who was initially arrested as a part of the investigation has now been released without charge.
Det Insp Bobby Dow said establishing a motive was "problematic".
He said: "For the last month we have had a dedicated team of almost 20 detectives and support specialists working on this inquiry.
"To date the inquiry team has interviewed almost 200 people, both pedestrians and vehicle users, as we piece together what happened to Mr McMurchie."
He added: "There is no definitive motive established as yet - it is proving problematic. We are keeping an open mind as to what happened to him.
"I don't know how many people know what happened to John - it may well be there is only a small group or it may be dozens. Please come forward as soon as possible."