Kenmore church marks restored grave of Sikh empire's heir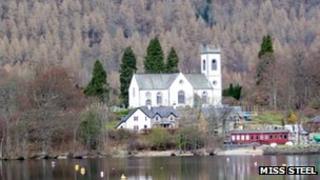 A gathering is to take place at a church in rural Perthshire to mark the restoration of the gravestone of a child who would have inherited the Sikh empire.
In 1865, Maharajah Duleep Singh buried his son at Kenmore Parish Church.
The Maharajah was the Sikh empire's last ruler and was exiled to the UK when his kingdom was annexed by the East India Company in 1849.
The event has been organised by the Anglo Sikh Heritage Trail (ASHT).
At its height the Sikh Empire was over twice the size of the United Kingdom and was based around the Punjab region of India.
Scottish relocation
However, a bloody war with the East India Company saw it eventually annexed and Maharajah Singh was exiled to Britain at the age of 10.
His friendship with Queen Victoria however, led to the former Indian royal moving to Scotland in 1855 under the guidance of his guardian Sir John Login.
It was in Scotland that he converted to Christianity.
The gathering at Kenmore Church on Thursday at 14:00 BST marks the end of restoration work on the grave of the Duleep Singh's infant son, who died in August 1865 less than a day old.
'Born an heir'
The work was commissioned by Kenmore parish church and the local project Kenmore in Bloom, with a financial contribution by ASHT on behalf of the Sikh community.
Harbinder Singh, director of the ASHT, said: "Despite this remote location the tragic obscurity surrounding this infant child remains a fact that he was born an heir to the Sikh kingdom.
"His grandfather Ranjit Singh and father Duleep Singh remain potent symbols not only of our heritage but also of the defining period in history which forged the current ties between Sikhs and the UK."