Ninewells Hospital to use new keyhole surgery technique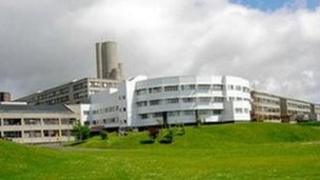 A Dundee hospital has begun using a new surgical technique to treat medical conditions that could potentially lead to cancer.
Ninewells Hospital is the first in Scotland to carry out single port keyhole surgery to treat kidney and urinary tract conditions.
The procedure sees the surgeon operate through a single cut, minimising the chance of scarring.
Up to 40 patients a year in Tayside could benefit from the procedure.
Unlike traditional laparoscopy, single port keyhole surgery requires just one point of entry rather than multiple, and often no scar is left visible at all.
Aesthetically Pleasing
The procedures are being carried out by consultant urological surgeon Mr Ghulam Nabi who specialises in keyhole surgery for diseases of the male and female urinary tract and the male reproductive organs.
Mr Nabi said: "Single port surgery is more aesthetically pleasing for the patient and is generally favoured by young people compared to the more traditional methods of laparoscopic procedures.
"We have been offering these procedures for a range of conditions, which is constantly expanding."
Information technology technician Ethan Bayne, 26, has been one of the first to benefit from the new technique.
After suffering from severe stomach pains, he was sent to have a CT scan at Ninewells Hospital.
Just an hour
It showed a cyst on his navel, which could have potentially led to cancer, so a surgical procedure was necessary.
The single port keyhole surgery only took an hour and Mr Bayne was discharged from hospital the next day, as opposed to four to five days as is the case with traditional keyhole surgery.
Mr Bayne said: "My brother Darren had a gallbladder operation using the traditional keyhole method and he has visible scars, two on his upper abdomen and one on his lower, so I was amazed at how quickly I recovered and I am now pain-free with no scar."
Five single port keyhole operations have been carried out in the last year by Mr Nabi at Ninewells for urological conditions.