Clackmannanshire Council to fine litter louts £50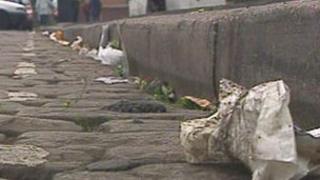 People who are caught dropping litter in Clackmannanshire are to be fined if they refuse to pick it up.
The council's five community wardens have been given the power to hand out £50 fixed penalty notices to anyone spotted dropping litter in the street.
There will also be additional monitoring being carried out at known litter hot spots.
If those issued with a fine fail to pay it, the authority has said it will pursue the matter through the court.
An advertising campaign is also being launched to get the message across that litter louts will be fined.
Cllr Donald Balsillie, convenor of the enterprise and environment committee, said: "It is unfortunate, but the time has come for more drastic action on what is one of the most common complaints received by us.
Strong terms
"We have always relied on education to hammer home the message with good success but the extent of the problem says to us education has to be backed up with enforcement.
"There is a hard core who think that dropping litter is acceptable. Now we are saying in the strongest terms allowed by the law that it's not."
The council currently spends almost £700,000 keeping the area's streets clean.
Cllr Donald Balsillie added: "If we need to use the full letter of the law to help achieve this, then so be it. If the fixed penalty notice is not paid, the council will pursue the matter through the court."