Missing Perthshire osprey returns to nest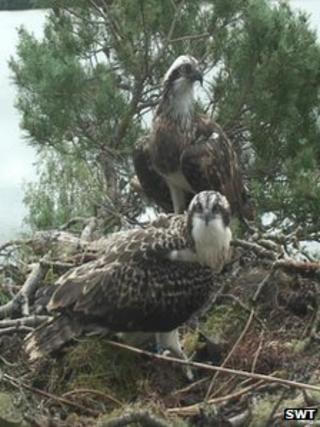 An eight week old osprey that went missing after his first flight has returned to his nest.
"Blue 44" was born to 27-year-old Lady eight weeks ago, at the Loch of the Lowes reserve in Perthshire.
He fledged the nest on Monday, but then disappeared and could not be traced, despite searches by volunteers.
The young bird of prey eventually re-appeared at his mother's nest on Friday.
The Scottish Wildlife Trust said it was unusual for an osprey chick to fledge and not return to the nest within 24 hours.
It is thought Blue 44 was daunted by the maiden flight and became reluctant to try again.
Satellite tracking eventually reassured the search team he was fine, after information from a data tag the bird was wearing showed he was moving and keeping to trees.