Missing Perthshire osprey confirmed alive by satellite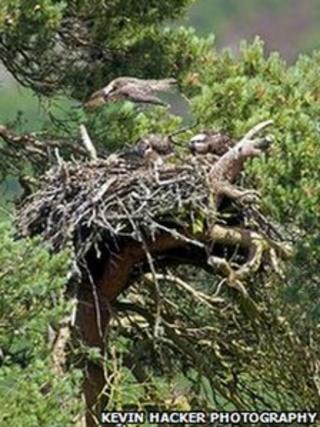 Concerns for the safety of a missing osprey chick have been eased after a satellite tracked his tag.
Blue 44 was born to 27-year-old Lady eight weeks ago at the Loch of the Lowes reserve in Perthshire.
On Monday he took his first flight but despite searches by volunteers hasn't been seen since.
However, staff at the Scottish Wildlife Trust said data from the bird's tag had shown recent activity, suggesting the young bird is alive and well.
The trust said it was unusual for an osprey chick to fledge and not return to the nest within 24 hours, but not unheard of.
On some occasions the young birds are daunted by their first flight and reluctant to try again.
Staff suspect this is what happened to Blue 44.
They said they were optimistic following the new satellite information which showed the bird was moving and that the altitude meter indicated he was keeping to the tree tops.
The trust said they were now scaling back the searches in order to reduce the disruption to the area and hoped that would encourage Blue 44 to return to the nest.