Crash reports publication call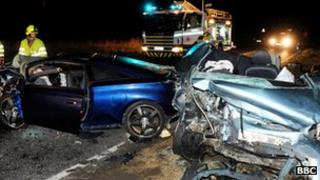 A study has recommended the families of Scottish road death victims be given full access to investigation reports relating to the incident.
The report has been produced by Dundee University and Scotland's Campaign against Irresponsible Drivers (SCID).
It suggests granting access to investigation reports would help families through the grieving process.
At present there is no formal procedure to allow families access to police reports on collisions.
The study has recommended the creation of an independent body to carry out in-depth safety investigations into all fatal road collisions alongside the police, similar to that which exists in Finland.
Lessons from Europe
The new organisation would provide a legal right of access to the police report and associated documents on completion of the investigation or on conclusion of criminal proceedings.
Vikki Long, a researcher in the School of Law at Dundee who compiled the report, said: "It is very encouraging to learn that legal procedures and practices exist in several European countries that could have a positive influence on the development of Scots law in relation to access to information following a fatal road collision.
"If these were adopted in Scotland it would reduce some of the anguish experienced by those bereaved by road death."
SCID, which advises and supports Scottish families following road collisions, has been campaigning for the introduction of a system where police reports are made available.
Chairwoman Joyce Beasley said: "Whatever the circumstances of a road death, it is SCID's experience that bereaved families will wish to access as much information as possible about the fatal collision and that having access to that information will aid the grieving process.
"This report shows that this is already happening in some other countries throughout Europe and that such a system could be implemented in Scotland."
Sensible recommendations
The first copy of the findings have been presented to Jenny Marra, MSP for North East Scotland.
Ms Marra said: "This is an excellent report setting out clear and sensible recommendations to bring Scotland's fatal road collision investigations up to the standard of other European nations.
"An independent body to investigate all fatal road traffic accidents, like that in Finland, would improve road safety by learning from previous tragedies and trying to prevent further accidents.
"This is an important recommendation."