Diamond Jubilee: Queen has visited new city of Perth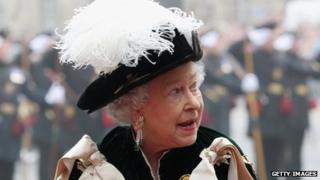 The Queen has visited Perth on the last day of her Diamond Jubilee celebrations in Scotland.
She has been handed the keys to the newly dedicated city and her husband, the Duke of Edinburgh, was granted the freedom of Perth.
The royal couple then visited the Black Watch regimental museum.
The Queen Mother was colonel-in-chief of what is recognised as the best known Scottish regiment for 65 years, until her death in 2002.
Her daughter passed through the wrought-iron gates which were put in place to commemorate that royal link.
The visit will end with lunch at Scone Palace where Scotland's ancient kings were crowned.
After a long campaign, Perth had its city status restored as part of a Diamond Jubilee contest.
The Queen is traditionally in Scotland for Royal Week, but this year it has incorporated celebrations marking her 60 years on the throne.
On Monday she attended a traditional keys ceremony in Edinburgh. While in the capital the Queen held a garden party for 8,000 people and gave honours to those on her New Year's list.
A thanksgiving service was attended by the Queen and the Duke on Wednesday at Glasgow Cathedral. That event was followed by a visit to George Square in the centre of Glasgow.
During a ceremony in Edinburgh on Thursday the Queen appointed her grandson Prince William to the Order of the Thistle.
The St Giles Cathedral service was followed by a pipe band parade hosted on the Royal Mile.