Nordex UK fined after Earlsburn wind farm death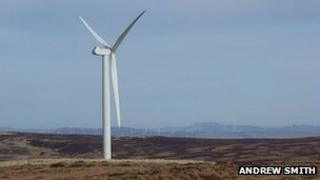 A wind turbine manufacturer has been fined £26,000 after admitting health and safety failings at a site where a teenage worker fell 100ft to his death.
Basilio Brazao, 19, from Brazil, died instantly when he fell down the shaft of a wind turbine at the Earlsburn wind farm near Fintry, Stirlingshire.
Mr Brazao had been working inside the turbine at the time of the incident.
Nordex UK admitted a number of health and safety breaches at an earlier hearing at Stirling Sheriff Court.
The court heard Mr Brazao was working with his father at the site when the incident occurred.
Gavin Callaghan, prosecuting, said: "The deceased and three other employees were inside the turbine, and later in the day began to descend the ladder. Mr Brazao was a short distance down the ladder when for unknown reasons, he fell.
"Fellow employees heard a scream and saw him falling. He was seen lying down at the bottom of the turbine, with his left ankle at an unnatural angle.
"Employees rushed to help him, but he died at the scene from his injuries."
The court heard that the manufacturer Nordex at that time used a fall arrest system - which is supposed to offer a form of fall protection to employees.
However, the health and safety executive had warned them to upgrade to a lift system in the months before Mr Brazao's death, but they had not done so.
Mr Callaghan said there was a "total failing from the accused to meet the regulations". However, he said there was no link between the failings and Mr Brazao's death.
Nordex UK admitted that between November 2006 and May 2007 they failed to ensure the health and safety of employees at the site.
The Manchester-based firm further admitted failing to provide a safe way of getting up and down from the wind turbines.
Ray Gribben, defending, said Nordex UK had been "practically insolvent" in the past two financial years.
Fining the firm £26,000, Sheriff Fiona Tait said: "It is accepted by the Crown that there is no link between the death of Mr Brazao and the offences Nordex UK have pleaded guilty to."
The Earlsburn wind farm in the Touch Hills was under construction when Mr Brazao died.