'Oldest breeding osprey' Lady hatches 62nd egg at Loch of the Lowes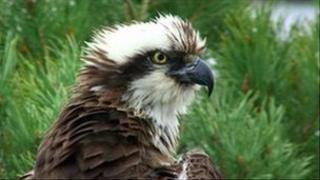 An osprey which is thought to be the UK's oldest breeding female has hatched an egg at the Loch of the Lowes wildlife reserve in Dunkeld.
The osprey - known Lady - hatched her 62nd egg on Monday night.
Almost 20,000 people were watching developments via webcam.
Lady has returned to the Loch of the Lowes reserve for 22 consecutive years, producing 48 chicks that have fledged. She has laid three eggs this year.
The new chick is the first at the reserve since 2010. Lady's eggs failed to hatch last year, despite being proved to be fertile.
Emma Rawling, a ranger for the Scottish Wildlife Trust, said: "To successfully fledge this number of eggs is a quite unbelievable achievement.
"We expect her to reach the milestone of 50 later in the week.
"We've had interest from all over the world and people visiting in their droves since the eggs were laid."
She added that the chicks would be tagged to monitor the exact routes, timings and behaviours of the birds as they migrate.