Get up close and personal with the world's oldest football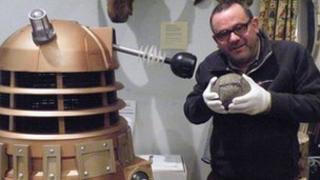 As footballing history is made at Hampden, Scots fans are being offered the chance to get up close and personal with the oldest football in the world.
Made from cow leather and a pigs bladder, it was found behind panelling of the Queen's chamber in Stirling Castle, which was decorated in the 1540s.
But it could be even older than that.
"There were four footballs bought for the Castle by the king (James IV) in the 1490s," said Michael McGinnes, collections manager at the Smith Museum in Stirling.
"So it could be one of those balls, that has actually lasted through the years and was given to Mary (Queen of Scots) as a young child, to play with."
Historians certainly know that the young Mary played football, and golf. She records games in her diaries.
And, Michael McGinnes said, the location where it was found makes the royal connection more likely.
He said: "It was in the Queen's bedchamber. So you assume that anything in that area was a secure zone, and that Mary of Guise - her mother - wouldn't have allowed anything in there that wasn't meant to be there."
All in all, then, you might expect this is to be one of the Smith Museum's most precious objects. It is.
Firmly locked away behind glass. Which it normally is.
But this weekend fans are being allowed to handle the ball, and pose for photographs with it.
The museum accepts that might be a risk.
But, Michael McGinnes said, "everything is a risk in life".
He added: "It's fairly robust, and it's quite solid. So, as long as you're simply holding it - with the gloves on, of course - it's just a question of balancing risk."
Anyone wanting to touch the ball will have to hold it over a cushioned table.
And there is no chance of anyone being allowed to head it, kick it, or play keepie-uppie with it.
"Absolutely none. At all. None. No. No", Michael McGinnes insisted.
Standing, rather incongruously, in front of one of the museum's two Daleks I got a chance to hold this extraordinary artefact. It's lighter than you might expect. And much smaller than a modern football.
It's almost impossible not to think of the people who played with this ball centuries ago.
And, Michael McGinnes explained, that's the point.
He said: "Objects hold emotions. And, even though you don't know it, you might react to an object simply by holding it. It's the same as being near a person who's famous. Except the object might be famous.
"Objects speak to you. And if people can touch something like this, just once in their life, they'll remember it for the rest of their life."