Labour/Tory deal at Stirling Council ousts SNP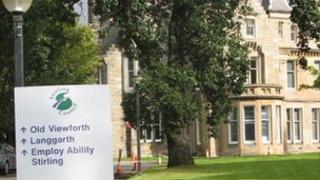 Labour and Conservative members on Stirling Council have agreed to run the local authority together.
Both parties said their priority would be balancing the local authority's books over the next two years.
The deal comes despite the SNP returning nine councillors at last week's local election compared with Labour's eight and the Tories' four.
The Nationalists ran Stirling Council as a minority administration between 2008 and May 2012.
The SNP condemned the coalition deal, calling it a "betrayal" for the people of Stirling.
Graham Houston of the SNP, who until the election was council leader, said he was "amazed" at the news.
He said: "The people of Stirling will be shocked that the Tories and Labour will get together to form an administration on Stirling Council, despite neither party being the biggest party after Thursday's election."
Mr Houston accused Labour members of desiring power "at all costs", adding: "The dead hand of Labour will grip the levers of power in Stirling once again.
"The real losers will be the people of the Stirling Council area, who after rejecting Labour at the ballot box will nonetheless see Labour entrenched at the helm of Stirling Council.
"The people of Stirling will rightly feel betrayed by this treacherous Labour/Tory alliance."
However, the leader of the authority's Labour group, Corrie McChord said: "After discussions with the other two parties involved with the council, Labour considers working with the Conservative group in the interests of delivering it's manifesto for the people of Stirling, the best way forward.
"There is an enormous challenge to come in the next two years in terms of balancing our budgets and developing the local economy, but with hard work and determination we can provide more efficient services."
Alistair Berrill, the leader of the local Conservative group added: "This power sharing deal allows us to work on our key election priorities of focus on the frontline, balancing the council's books and making our school system better.
"There will be disagreements along the way, but we are confident that a good working relationship can be built between the two parties and we can truly achieve for the people of Stirling."
The new administration said it would begin the process of revising the council's objectives and choosing a new governance structure between now and August, with the key posts being appointed at a meeting on 17 May.