Dundee University voted best student experience in the UK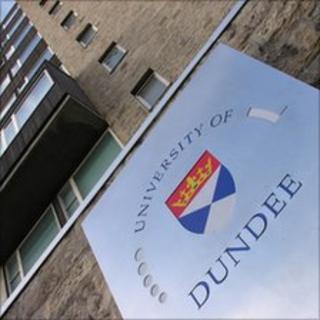 Students at Dundee have the best experience of university life, according to a new survey.
The Scottish institution topped the Times Higher Education (THE) student experience study .
The poll surveyed more than 14,000 UK undergraduates, asking them to rate their university in 21 categories including quality of life, lectures and accommodation.
Dundee came fifth in last year's survey.
Prof Pete Downes, principal of Dundee University, said: "There is nothing more important to a university than the quality of the experience enjoyed by students who attend it, so to come out top in the UK in a major survey like this is very encouraging.
"Our ambition is to be Scotland's leading university, so we must build on this very positive result and work hand-in-hand with our students to achieve that."
Iain Kennedy, president of Dundee Students' Association, said: "There are so many good things about being a student in Dundee.
"Almost all of the accommodation is either on campus or within a few minutes walk so there is a real 'student village' feel to the place, and at the same time we are right in the centre of a vibrant city."
He added: "The university has invested a lot in facilities over the past few years and that has had a very positive impact on student life."
Dundee beat Loughborough, Sheffield, Oxford and Cambridge to the top spot.
Last year's winner Loughborough was rated first for its student union and industry contacts.
Oxford was found to have the best quality staff and lectures, while the Royal Veterinary College was judged to have the most improved student experience.
THE editor John Gill said: "Student expectations are rising in line with the increase in tuition fees this autumn, putting pressure on universities both to compete for students and to ensure that they are not disappointed with their experience once they arrive.
"While universities must never put the student experience before academic concerns, its value to undergraduates cannot be underestimated.
"We hope this year's survey will help universities to raise their game, learn from the best and meet the challenges of higher expectations and greater 'consumer' demand."
Two Scottish institutions made the top 10 in the survey with Glasgow rated the 9th best in terms of the student experience.