Facebook riot page teenager Liam Allan jailed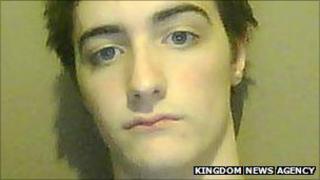 The first person in Scotland to be arrested for trying to incite riots using Facebook has been jailed for 19 months.
Liam Allan, 19, started the Facebook page encouraging people to riot in Dundee city centre during last summer's disturbances in England.
The Dundonian pled guilty to breaching the peace on 9 August last year.
Fiscal depute Donna Davidson said police had set up a "major incident room" after being alerted to the page.
Allan posted the event - titled "City Centre Riot" - on the social networking site at the height of the violence and looting which swept across cities in England.
On it he encouraged people to "get suited and booted, crowbars, baseball bats, the lot" to show the English "that we are better rioters than them tea sippers".
Ms Davidson said: "The situation is that on 4 August last year the fatal police shooting of Mark Duggan took place in London. As a result large scale riots engulfed the city.
"The riots spread to other cities in England, meaning resources were stretched and communities torn apart.
"On 9 August, Tayside Police received a telephone call reporting someone had observed the Facebook page entitled City Centre Riot. As a result a major incident room was set up to respond to the threat of rioting in Dundee."
'Stupid and criminal'
The fiscal depute said when police traced Allan he said the page was a joke.
Defence solicitor, Doug McConnell, said Allan had no previous convictions and argued that his case was different to that of two other Dundee teenagers - Jordan McGinley and Shawn Divin - who were last year jailed over similar Facebook pages.
Both received three-year prison terms after admitting starting a page about a week after Allan's page was found.
Last month they had those jail terms cut to 27 months for McGinley and 29 months for Divin after appealing their sentences.
Mr McConnell said: "He (Allan) was the first person to be arrested for this sort of offence - he didn't learn a lesson from someone else because there wasn't one to learn from.
"His thought was that this wasn't a crime and he didn't realise what he was doing was a crime. He accepts now it was stupid and criminal."
Sheriff George Way told Allan he had pled guilty to a "grave offence" and that a 19-month jail term was the only option.
He said Allan must have been aware that property and lives were at risk, given what was happening in England at the time.
"I can't accept that this was a prank or intended as a joke," the sheriff said.
"The problem with the crime of inciting and the problem with social networking is once you have lit the signal beacon you can't stop it - you don't know what others are going to do.
"I can't see any way of adequately punishing you and comparatively reflecting the sentences handed down to others in Dundee other than prison."