Former nurse Lucille Ferrie admits shoplifting charge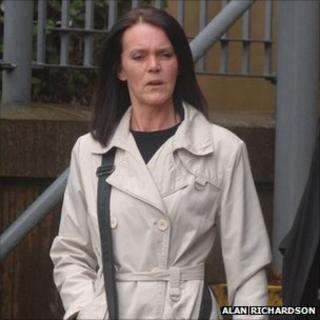 A Broughty Ferry woman who faced flogging over the death of a colleague in Saudi Arabia faces jail in Britain after admitting to shoplifting.
At Dundee Sheriff court, Lucille Ferrie, 46, pleaded guilty to stealing a tub of face cream from a chemist.
In 1996, the ex-nurse, then Lucille McLauchlan, was sentenced to eight years and 500 lashes for her part in the murder of Yvonne Gilford.
She was pardoned 17 months later and allowed back to the UK.
Her co-accused Deborah Parry, who had been sentenced to beheading after being found to be the main player in the 1996 killing, was also released.
Both women said they were forced to confess to a crime they did not commit and later retracted their confessions.
They were pardoned after so-called "blood money" under Islamic law was paid to Mrs Gilford's family in Australia.
Ms Ferrie had originally denied the charge of stealing a tub of face cream from a Boots store in Broughty Ferry on the outskirts of the city last year.
However her solicitor, John Boyle, said: "She now wishes to plead guilty to the charge."
Sheriff George Way asked for background reports before sentencing.
Previous convictions
It is the second time in a year she has been convicted of theft charges.
Last April, she was placed on probation for two years for using stolen credit cards to buy £1,000 worth of goods online.
She was spared jail after her lawyers argued that events in Saudi Arabia had left an "indelible mark on her", and that she was a "devoted mother of two" and in employment, and had no addictions to gambling, drugs or alcohol, nor any financial difficulties.
On her return to Dundee from Saudi Arabia in 1998, Ferrie was found guilty of charges of reset, theft, and fraud and sentenced to 240 hours of community service.
She had used a bank card, stolen from a patient at Kings Cross Hospital in Dundee, to obtain £300.
After her conviction, she was struck off the nursing register by the UK Central Council for Nursing.
In 2008 the former nurse was declared bankrupt at Dundee Sheriff Court.