Osprey Lady returns to Loch of the Lowes reserve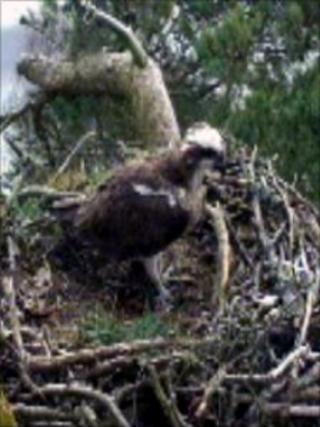 An osprey thought to be the UK's oldest breeding female has returned to its nest at a wildlife reserve in Perthshire.
The bird, known affectionately as Lady, has nested at the Loch of the Lowes reserve near Dunkeld for 22 consecutive years.
Ospreys live on average for 10-15 years in the wild.
Staff from the Scottish Wildlife Trust (SWT) said they had once again "positively identified" the bird.
Emma Rawling, a ranger from the SWT, said staff were able to identify Lady due to her "distinctive iris and plumage".
She said: "It is an amazing achievement for her to return to Loch of the Lowes for her 22nd breeding year, making her at least in her mid-twenties. We are certain she is the oldest breeding osprey in the UK."
In 2010 Lady fell ill and experts feared the bird would die after she stopped eating.
However, thousands of people watching via webcam witnessed the osprey's sudden recovery days later.
In 2011 Lady returned to her nest, but her eggs failed to hatch.
At this point Ms Rawling said staff at the SWT "feared that might have been the last we would see of this bird".
However, Lady has once again returned to the Loch of the Lowes after completing the 3000-mile migration from West Africa.
24-hour protection has now been placed on the osprey nest as long as Lady stays.
Female ospreys normally produce about 20 chicks in a lifetime. Lady has produced 56 eggs and has now seen 48 fledge.
Ospreys generally lay two to four eggs in early April. They then hatch about six weeks later.