Wild camping ban proposal for Loch Lomond islands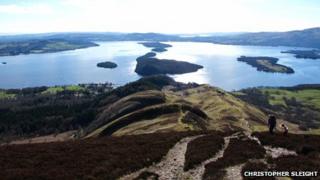 A camping ban on east Lomondside could be extended to four islands in the loch to tackle "irresponsible behaviour" like vandalism and fire lighting.
The Loch Lomond National Park said "major change" was needed to secure the future of Inchmoan, Inchconnachan, Inchtavannach and Inchcruin.
New laws banning camping outside designated sites is one of three options being considered.
Apublic consultationreviewing all by-laws on the loch has been launched.
It will run for three months, closing on 18 June.
The four islands are considered special protection areas and are home to many rare species, such as capercaillie, osprey and otters.
'Precious species'
But the national park said their existence was being threatened by wildlife disturbance, litter, vandalism and "irresponsible camping". By-laws governing the area were last reviewed in 2006.
Grant Moir, the park's director of conservation, said he believed the Loch Lomond by-laws were generally working well, but that something had to be done about the islands.
"We have some of Scotland's most precious species and habitats here and sadly some visitors continue to behave irresponsibly, which clearly has a lasting impact on nature and also the experience of other visitors to the islands," he said.
The public consultation includes an option to continue with the current approach of rangers patrolling the island with police support, which would be run alongside education campaigns.
A second option would be to provide camping facilities and fire pits, but not legally enforce their use.
The final option would see a seasonal camping ban similar to the one introduced last year between Drymen and Rowardennan on east Lomondside. Any overnight visitors to the island would have to use designated sites built by the national park.
The national park said there were no plans "at this time" to ban all access to the islands as this would be "disproportionate, difficult to enforce and could well be counterproductive".
Mr Moir added: "Through the consultation, we're asking people what else can be done to secure the future of these wonderful islands, how best to provide a place they can enjoy safely whilst protecting precious habitats and species."
Ramblers Scotland said it would be opposed to any restrictions on camping.
Problems 'displaced'
Director Dave Morris told BBC Scotland: "We would have concerns about that because we've not yet seen an analysis of how the by-laws have been working so far.
"The problem is, when they introduced the camping ban they also banned alcohol at the same time, so it's difficult to work out what's been the most effective.
"The national park were supposed to produce a report on the by-laws in February, but they've failed to do that."
Mr Morris said there was also evidence that people were simply setting up camp at other nearby areas which were not covered by the east Lomondside ban.
"We've seen displacement caused by the by-laws on Conic Hill - where there have never been problems before," he said.
In another proposed change to the by-laws, the national park wants to extend an 11kmh speed limit around Inverbeg. It said the move was in response to the safety concerns of visitors.