Dunblane survivor Ryan Liddell given life sentence for rape bid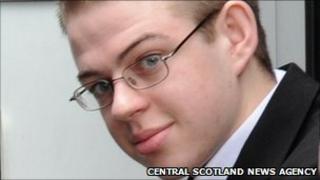 A survivor of the Dunblane massacre who carried out a "shocking" sex attack on a frail, elderly woman in her own home has been given a life sentence.
Ryan Liddell, 21, attacked the 76-year-old after entering her home and pretending to be her carer in 2010.
Liddell, who was shot by gunman Thomas Hamilton at Dunblane Primary School in 1996, was made the subject of a lifelong restriction order.
He was told he must spend at least six years behind bars.
The order means Liddell will only be released if the parole board deems it safe to do so. He will then be monitored for the rest of his life.
Passing sentenceat the High Court in Edinburgh, judge Lord Uist told Liddell his actions had "ruined" the rest of the pensioner's life.
His victim is no longer able to live independently.
Liddell had denied the charges against him but was convicted by a jury of assaulting the woman with intent to rape her in June 2010, putting her life in danger.
He was found guilty after a trial last year which heard that he pushed the pensioner to the floor in her Dunblane home, kicked her in the head and repeatedly punched her.
Liddell, who was 19 at the time of the attack, also put his hand over her mouth to stop her screaming and removed her clothes and underwear.
The woman was left severely injured, permanently disfigured and permanently impaired as a result of the attack.
Lord Uist told Liddell: "She has been in hospital or a nursing home since the attack as she is no longer able to live independently. In effect, you ruined the rest of her life by what you did to her.
"It is shocking that a young man such as you could have committed such a terrible crime on a vulnerable, elderly lady by subjecting her to such violence in her own home in the middle of the night."
He also said Liddell had shown "no remorse" for the crime.
The court heard that Liddell had two previous convictions - one for theft by housebreaking in 2009 and one for breach of bail conditions in 2010.
The judge said he was capable of causing others "serious harm" and had the "unusual habit" of wandering the streets during the night.
Dunblane shooting
But during a sentencing hearing on Tuesday, a psychiatrist said the Dunblane shooting had not played a significant part in shaping Liddell's personality.
Dr Rajan Darjee, who interviewed Liddell six times and looked at reports on his early life, said records had shown Liddell displayed behavioural problems before the massacre.
The consultant forensic psychiatrist said: "I do not think the Dunblane shooting was particularly significant in forming the type of individual he was."
Following the massacre at his school during a gym class, Liddell was placed in intensive care and later had surgery to repair a collapsed lung and broken right arm.
Liddell was assessed as being of "medium risk" of reoffending, but Lord Uist said the nature of the offence, together with the psychiatric and risk assessment reports, satisfied him that Liddell could pose a danger to the public.
He told Liddell he would impose an order for lifelong restriction and set the punishment part of his sentence at six years, running from August 16 2010.
The judge added: "I must state that it does not follow that you will be released after six years: you will be released only when the Parole Board considers that it is no longer necessary for the protection of the public that you continue to be held in prison."