Coal-fuelled power station plans for Grangemouth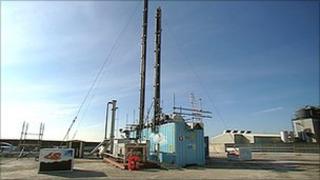 A US power company is planning to build a coal-fuelled power station at Grangemouth, BBC Scotland has learned.
The plant would use carbon capture and storage (CCS) technology in a bid to reduce emissions by more than 90%.
Seattle-based Summit Power Group has joined forces with National Grid PLC and the oil services company Petrofac for the project.
The scheme's backers hope to win funding for the Caledonia Clean Energy Project from the UK government.
The proposed plant would be built at the Port of Grangemouth, on the Firth of Forth, west of Edinburgh.
C02 emissions would be captured and piped to St Fergus in Aberdeenshire, before being stored deep under the North Sea.
Summit Power Group said the Grangemouth site had been chosen because of its proximity to the North Sea and the other gas supply facilities nearby.
Testing ground
The company added that it was currently building a similar plant in Texas, which was awarded $450m (£284m) of funds by the US government in 2010.
The announcement follows the cancellation of a carbon capture project at Longannet power station in Fife in October 2011, which was shelved over concerns about the cost.
Scottish Power said the bill would have been about £1.5bn - but the UK government decided it did not want to spend more than £1bn supporting the trial.
Before the project ended, Longannet was seen as the only contender in a long-running government competition for a power plant that could becom e the test ground for carbon capture and storage.
The technology is seen as vital to the future of energy worldwide while cutting carbon emissions.
Stuart Haszeldine, professor of carbon capture and storage at Edinburgh University, said the Grangemouth plant would have double the efficiency of Longannet, as it would be built with newer technology.
Commercial pressures
"It's much, much more efficient and much, much cleaner," he said.
"There's no actual firing. It's a coal-fuelled power plant but it's not burning the coal. It's like a chemical refinery for coal."
But he said that to be commercially viable, the 400MW plant would need to sell on the electricity produced at a higher rate than normal - a proposal being discussed by the UK government in May.
"They need more return for it because they are cleaning up the fuel, and that's fair enough," he told BBC Scotland.
"But if we're prepared to pay a little bit more for clean wind power... we should be equally prepared to pay for this clean coal-fuelled power."
There are currently two other projects in Scotland hoping to build plants that use CCS technology - and take advantage of the UK government's £1bn in funding from its Carbon Capture and Storage Delivery Competition.
'Climate trashing'
Plans for one of them, at Hunterston in North Ayrshire, were rejected by councillors in November 2011, but Ayrshire Power has said it remains "100% committed" to building the coal-fired power station.
And two energy firms have also joined forces to apply for the funding to develop CCS at the gas-powered Peterhead plant in Aberdeenshire.
Shell and Scottish and Southern Energy said they would begin a study in the first half of 2012 if they won the funding.
WWF Scotland's senior climate change policy officer, Dr Sam Gardner, said: "Unlike the climate trashing Hunterston coal proposal, the close proximity of this latest scheme to Grangemouth means it has the potential to reduce climate change emissions from the heavy industry located there.
"However, if it is to make a credible contribution to Scotland's low carbon future the developer must drop its plans to use the captured carbon dioxide to pump out more oil from the North Sea."