New signs on A85 and A82 detect speeding bikers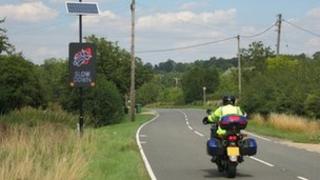 Electronic signs which detect speeding bikers and warn them to slow down are to be used for the first time in Scotland.
Two "vehicle activated signs" have been installed on the A85 west of Perth - a popular route with motorcyclists.
They use electronic loops in the road which are specially programmed to detect a speeding motorcycle.
Once a rider triggers the loop, a sign further down the road flashes a warning at them.
One of the signs is at Tynreoch, St Fillans, and the second is at Twenty Shilling Wood, Comrie. A further pair have been installed on the A82, at Sloy and Ardlui.
The signs, which have been fitted just before the biking season starts, display an image of a motorcycle leaning over with the words "Slow Down" underneath.
Arron Duncan, from the Tayside safety camera partnership, said: "We know that motorcyclists of all ages and riding ability enjoy the roads in the region and these signs will hopefully encourage riders to reduce their speed and be more aware of the potential hazards they encounter when out riding - for their safety and for the safety of other road users."
The warning signs have been placed at motorbike accident blackspots.