Pride restored to 'ancient capital' Perth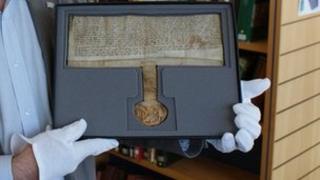 When city status was awarded to Perth, the reaction from civic leaders was more of pride restored, rather than an honour granted.
Welcoming the news, the Provost of Perth and Kinross Council, Dr John Hulbert, said the new status would open a "glorious new chapter in Perth's long history", before adding, pointedly: "Full restoration of its ancient dignity is long overdue."
Perth has long been known as the "fair city" and is considered by many to be the first capital of Scotland from the 800s until 1437.
In a time when the royal court moved frequently around Scotland, there was no official capital - but Perth and Kinross Council archivist Steve Connelly argues that Perth has a solid claim to the title.
"In the lead-up to that sort of period, certainly the king made his home at the Blackfriars Monastery quite regularly at Perth," he told BBC Scotland. "If anywhere could have been considered a capital, it would be there."
"Certainly, it had more than its fair share of parliaments and privy councils - more than Edinburgh in that sort of period."
City abolished
Built on the banks of the River Tay, it was also a prosperous town, trading with France, the low countries and the Baltic countries in luxury goods like silk and pottery.
Perth's role as a favoured location for the royal court suffered a blow in 1437, when King James I was murdered there, but it was already a royal burgh by this time - a status probably conferred in the 1120s and confirmed by a charter from King William the Lion in about 1210.
Then in 1600 came the King James VI charter which was to become crucial to the city status bid - a charter which referred to Perth as a city and royal burgh.
"It seems fairly explicit that King James VI thought of it as a city," Mr Connelly said.
But local government reform knows no sentimentality and all this glorious history was ignominiously stripped away in 1975. Perth lost its city status and only four cities remained in Scotland - Aberdeen, Dundee, Edinburgh and Glasgow.
"The City and Royal Burgh of Perth - which was known colloquially as Perth town council - was abolished and the unit of government became Perth and Kinross District Council," Mr Connelly said.
"Of course it was covering a much bigger area than just the city. It was really a predominantly rural area with Perth as its administrative centre. So it created a situation where you couldn't really call it Perth City Council."
But no-one in Perth stopped calling it a city. It retained a city hall and was allowed to keep elements of its heraldry that referred to its previous status.
Road signs at the town's limits welcomed people to the "City of Perth" and other signs pointed people to the "City centre".
The creation of Inverness and Stirling as cities - two other administrative centres for councils covering large rural areas - gave new hope that Perth could follow in their path.
Perth's successful bid was built on the backbone of the 1600 "golden charter", but Mr Connelly said the honour was a genuine restoration to a place that historically only gave way in precedence to Edinburgh.
"Pre-1975 it was known as the City and Royal Burgh of Perth - there were no doubts about it," he added.